California State University, Fullerton's Titan Baja SAE (Society of Automotive Engineers) team is back at it again preparing for their 2016 competition season and sought Q-PLUS Labs' measurement expertise to 3D scan a crucial component of their new vehicle, dubbed the Hyperion, the second iteration of the team's 2015 race car, the Cronos which Q-PLUS Labs aided with 3D scanning last year. Their 2015 design of the Cronos not only competed, but beat out half the competition! This year, the team is dialing in on a design that works best for the most random and unpredictable off-road terrain which the race has been known to throw at competitors.
Introduction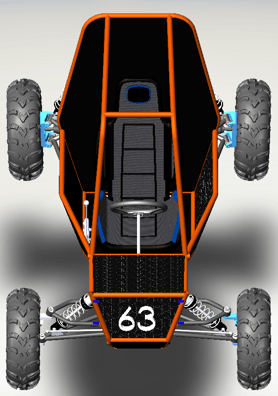 A little background on the rigorous Baja SAE race—it originated in 1976 at the University of South Carolina as a comprehensive engineering competition with the objective for students to function as a team and not only design, build, test, promote, and race a vehicle, but also raise financial support while balancing the demands of their course work. In order to compete as formidable opponent at the 2016 Baja SAE race, the final single-seat, all-terrain sporting vehicle is comprised of parts machined by CSUF's Baja team.
This year, the team decided to integrate a cutting brake into the vehicle's design. Because the race course terrain consists of extreme conditions, installing a cutting brake would help mitigate the unpredictable conditions and make the vehicle more maneuverable. It accomplishes this by working in line with the rear brake system to isolate specific wheels, giving the driver greater control of the car and facilitating with sharp terms.
Our Process
The cutting brake's measurements are extremely vital to the vehi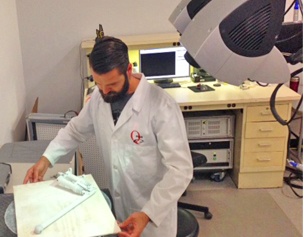 cle's ability to successfully navigate the race due to the challenging track. CSUF's Baja team requested Q-PLUS Labs to 3D scan the cutting brake that provided the team with measurement data from which they can derive the best fit area of the car to mount the brake. Using the Steinbichler Comet 5, Q-PLUS Labs was able to give the team precise measurement data for the cutting brake, allowing a new model to be water jetted accurately while reducing the amount of time it would have taken the team to acquire the measurements manually, and helping them quickly prepare for their 2016 race in Gorman, California May 19th-22nd.