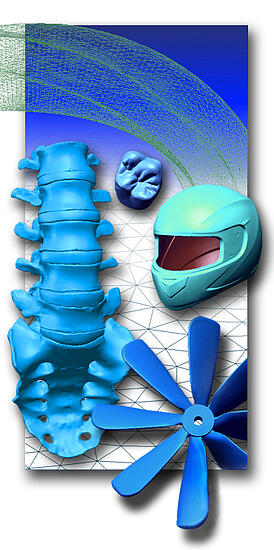 3D scanning can be used for a broad range of applications, some of which you might not expect. It can be employed in any situation where the size, shape, and surface characteristics of an object are important. Advances in the technology have further broadened the scope of its utility. It is possible to measure geometry with greater accuracy as well as to capture small details that were previously not possible to measure.
The purpose of
3D scanning
is to capture surface geometry, but the reasons you might want to do this can vary significantly. Some of the most common applications include:
Reverse engineering and protoyping - There are many reasons that one might want to replicate an object through reverse engineering, and 3D scanning is one of the most effective ways to create an accurate representation of the original object. The level of accuracy required can also vary depending on the application, so it is important to understand the objectives for reverse engineering.
Manufacturing quality control - In many cases, parts coming off a manufacturing line must meet specifications within a certain tolerance range. 3D scanning can be used to accept or reject products for quality control, and to ensure that mass-produced parts are able to fit together properly and consistently.
Industrial metrology - A highly detailed 3D representation of a machine part can be used to evaluate wear patterns, confirm the final build, and analyze other complex surfaces. It can also be used to replace old parts that do not have an existing CAD model.
Medical applications - Teeth, bones, and even skin surfaces can be modeled using 3D scanner equipment. This information can be used to create prosthetics, orthotics, and other medical devices.
Movie production - The entertainment industry uses 3D scans for visual effects and other 3D graphics. This technology is also commonly used for video games and animation. View our 3D scanning gallery to see how 3D renderings of people and other objects can be generated.
Artifact documentation - Archaeologists and other scientists can use 3D imaging to create replicas of unique artifacts and other materials of interest without damaging them. The scans can also be used for modeling, documentation, and restoration.
The type of 3D scanning equipment you select depends on the application and a number of other factors. Choosing the right equipment early in the process can help you save money and produce the best possible results. Q-PLUS Labs is here to help you select the right equipment, or you can outsource some or all of your 3D scanning needs directly to us. Contact us today to learn more or to schedule a consultation.

What 3D scanning applications have you used in your business?