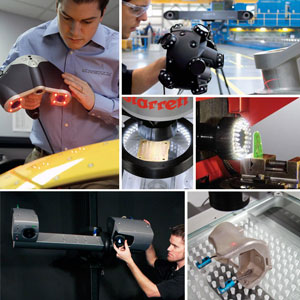 Dimensional inspection can be performed with a wide variety of methods and equipment, depending on the object being measured. When selecting equipment, remember the cardinal rule of dimensional inspection:
The object being measured cannot be altered during the measurement process
. This means that some objects cannot be touched because the resulting measurements will be inaccurate.
When touching an object with a probe will alter its dimensions,
non-contact sensors
must be used during the measurement process. Cases when this is appropriate include when the object is:
Soft
Elastic
Very small
Fragile
Examples include objects such as micro-gears, rubber gaskets, prosthetics made of soft plastic, or a fragile antique with a delicate surface.
Non-Contact Sensors for Dimensional Inspection
Several types of non-contact sensors can be used for dimensional inspection, including:
3D scanners. There are two main types of 3D scanners: those that use structured light and those that use lasers. In both cases, light is projected onto the surface of an object and measurements are made based on the reaction of the light. With structured light, the distances are measured using the distortion of pixels, and with lasers, the reflection is used to triangulate distances. Clearly, the surface characteristics are a significant factor in determining whether 3D scanning should be used.
Optical comparators. When light is projected onto an object, its resulting shadow or silhouette can be used to take measurements or compare the shape to the specifications. Fiber optic technology can also be used for edge detection.
Vision systems. This type of equipment uses a similar concept to optical comparators in that light is projected onto a screen. However, vision systems also use cameras or zoom optics to relay an image to a display. Other accessories such as edge detection, touch probes, other types of sensors, and automation technology can also often be integrated into these systems.
If you're not sure what type of dimensional inspection equipment makes the most sense for your application, working with an expert is best to ensure accurate results. Q-PLUS Labs provides in-house or on-site dimensional measurement services for virtually any industry or application.
What types of objects do you need to measure? Do you think that using a non-contact sensor is the best approach?