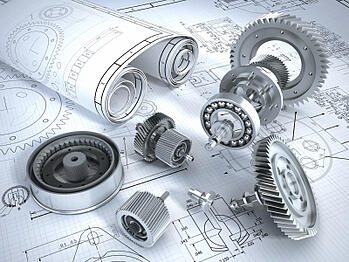 Reverse engineering
can be used for a broad range of applications, from precisely duplicating an airplane part that is no longer manufactured to making a mold to replicate an antique statuette. The type of reverse engineering required will depend on the specific application and the necessary degree of precision. Knowing these factors in advance can help you determine the type of reverse engineering that makes the most sense so you can get useful results and make the appropriate budget decisions.
Exploring two extreme ends of the spectrum illustrates the difference between reverse engineering types and why it is important to understand them.
Case 1: Precision is important
Various factors are considered when determining the best method for reverse engineering. Take the example of an aircraft part or biomedical device. You have the original part, but no design specifications. In this case, the following factors are considered:
Original object - Because having a high degree of precision is important, several original parts are required to generate the most accurate duplicate part. These several parts will be measured and compared; the average measurements are typically used to replicate the part.
Tolerance - This represents the range of measurements that are acceptable. When working with a regulatory body such as the FAA or FDA, you generally must stay within a certain allowable deviation.
Accuracy - A high degree of accuracy is required to meet the desired function of the part.
Measurement approach - Many types of measurements using various contact and non-contact sensors will be taken with either a low-density ordered data or high-density data approach, possibly with millions of points to get the most accurate and detailed information possible.
Purpose - You may want to create new tooling or parts for a high-precision application, or duplicate a part for which you do not have existing specifications. The result might be parametric CAD models, 3D mesh files, or engineering drawings that can be used for manufacturing.
Case 2: Precision is less important
When replicating an object that is not subject to regulatory scrutiny, a less strict approach can be taken. The same factors apply, but they are handled differently:
Original object - Generally only a single original object is required.
Tolerance - The tolerance levels may not be important at all, making the measurement requirements significantly less onerous.
Accuracy - The original object may have a more free-form geometry that does not require the same degree of accuracy.
Measurement approach - Only 3D scanner measurement data may be required to generate a suitable duplicate and engineering drawings are generally not required.
Purpose - You may want to get a digital representation of a product for a marketing video or reproduce products for manufacturing. The result might be a 3D mesh or non-parametric CAD model that can be sent to a rapid prototyping machine and also allows you to compare reproductions to the original.
Of course, there are a broad range of examples that fall between these two ends of the spectrum. A good reverse engineering lab can help you determine which reverse engineering approach is right for your project.

If you need reverse engineering services, contact the experts at Q-PLUS Labs. We provide 3D scanning & digitizing, precision CMM measurement, 3D CAD modeling, and engineering drawing services to help you reverse engineer any type of part. Contact us today to learn more about our services.